Parcours IDS M2
IMPORTANT NOTE:
We are currently in the process of renewing our pedagogical training.
From the academic year 2021-2022, the International Development Studies (IDS) Master's degree will merge with the International Cooperation and Urban Planning (
ICUP
) and Urbanisme et Coopération internationale (
UCI
) programs.
We will offer a
new bilingual French and English Master's speciality (first and second year Master) under the name of "Transformative Urban Studies" (TRUST).
More info here.
INFORMATION IMPORTANTE:
Nous sommes actuellement en train de renouveler notre offre de formation pédagogique.
A partir de l'année académique 2021-2022, le parcours de master International Development Studies (IDS) fusionnera avec le parcours de International Cooperation and Urban Planning (
ICUP
) et le parcours Urbanisme et Coopération Internationale (
UCI
).
Nous proposerons un nouveau parcours de
master bilingue français et anglais (M1 et M2): "Transformative Urban Studies" (TRUST)
.
Plus d'informations ici.
Image "Grande roue" - Author: Philippe Rekacewicz / visionscarto.net
Sustainable development requires innovative strategies, new conceptual and practical tools and holistic policies.
We provide students with a theoretical, empirical and practical understanding of global social, economic and environmental change, equipping them with skills and knowledge to promote sustainable local development in the context of globalization.
We employ a pioneering approach comparing innovative strategies in the Global South as well as in the Global North, while focusing on the worldwide circulation of development strategies.
Teaching staff
Click here to view the teaching staff
Program content
This Master in International Development Studies is designed for students with a strong background in social sciences and an interest in addressing development issues critically.
A general introduction to international debates on development theories, discourses and policies forms the basis for addressing major challenges to sustainable local development from theory to practice. Multi-level case studies all around the world are used to discuss conceptual, practical and ethical issues of contemporary development programs and projects. We cover fields such as poverty reduction, migration, natural resource management, transformative social innovation, local economic development and disaster risk reduction.
The program comprises one year of post-graduate studies (60 ECTS), starting in September. It consists of 9 interactive courses followed by an internship within a host organization and the writing of a Master's thesis.

Click here to see more details on the program structure.
Program calendar
September to February:
The academic year starts around the 10th of September with a one-day "kick-off meeting".
In September, we will go the IUGA rural campus CERMOSEM which hosts us for some days and we will profite to visit sustainable projects in the Ardèche region.
March to September:
The courses in Grenoble finish at the end of February and from March onwards IDS students start their 3 to 5 months internship.
Master thesis defenses will take place at the beginning of September, in Grenoble or via Skype.
For further information, please contact: Cristina Del Biaggio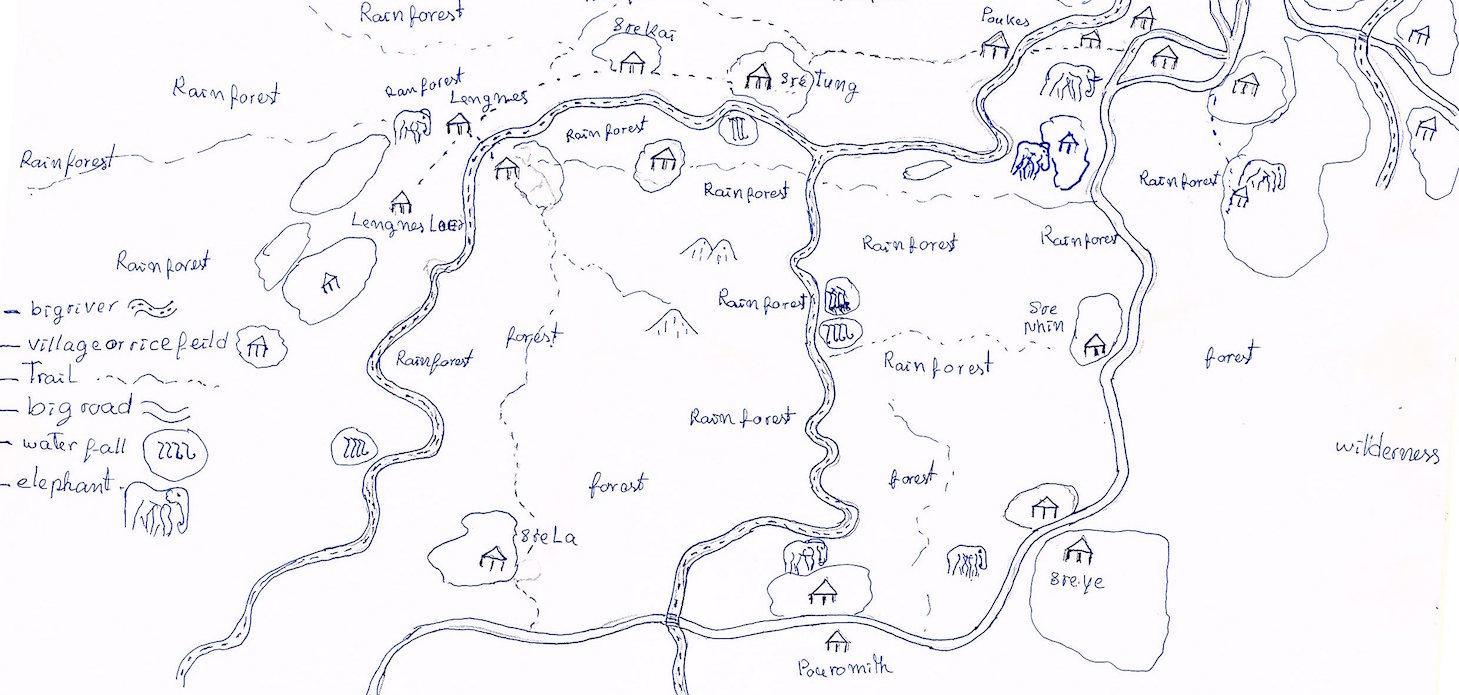 Map of Cambodian rainforest (detail) - Author: Mony Hong
Career opportunities
Our rapidly changing world has a growing need for professionals with international experience, able to formulate innovative policy proposals. Our students will find employment in the fields of development cooperation and regional/local planning, within government departments and agencies, supranational and multilateral development organizations, non-profit organizations, as well as in the corporate sector.

We also actively support students wishing to continue with a PhD thesis.
Most of the teaching staff is conducting research in the research centre in social sciences called Pacte. Have a look at the Pacte website to get more info.
Publié le 16 novembre 2018
Mis à jour le 23 mars 2021